Thanks for coming to meet us!
Hi there! I'm Georgia and I've been singing in my wedding band Cupids Wish for ten years. As a way of introducing Michael and myself to you, I thought I'd write a blog post to share the unusual story of how our wedding band accidentally began, and why we love doing what we do! I'm embarrassingly late to the party at blogging but as the saying goes, 'better late than never!'
- I fell head over heels for this lovely man -

I guess it all kinda began when Michael and I became a couple back in 2004. I loved nothing more than listening to him sing and play his guitars! I couldn't help but sing along - but only our 14 guinea pigs, 3 bunnies and the four walls were ever allowed to hear us!
Michael had played in original and professional bands since his teens. He never tells anyone this himself because he's waaaaay too modest but he was selected from thousands of the UK's greatest guitarists to play for two of his guitar idols - Jimmy Page of Led Zeppelin and Brian May of Queen. He's played amongst other famous musicians we all know and love too but he never tells anyone.


I'm pretty sure there are lots of people who'd never guess that Michael would be so modest and shy when it comes to talking about his music career after seeing him play with so much confidence and flair - but he's not one to boast and this is one of the many reasons I fell head over heels for this lovely man.

I'd luckily grown up in a musical family - My Nanna occasionally sang with my Grandad who was a wonderful pianist and the conductor of an orchestra. My Mum and Dad were both amazing singers and Dad played drums and guitar.
- All they cared about was being in love -
Mum and Dad performed together for over 20 years and were offered a number of lucrative record deals during that time from all the top record producers, first of all in the late 60's and then again in the 70's and 80's, but they didn't care for fame and fortune. All they cared about was being in love, having a family and taking us kids on wonderful adventures.


During our childhood and even adulthood, my folks, siblings and I loved nothing more than to sing together, especially on long car journeys and we'd sing Beach Boys, Everly Brothers and Bee Gees songs because we enjoyed singing in harmony with each other. When my brothers reached their teens, they formed an original rock band and my sister became lead singer of an indie covers band. Although I loved music and singing with my family, I was more interested in art and becoming a singer never once entered my head. So it was a shock to me more than anyone when I accidentally did, and this is how.......
Back in 2008, Michael and I were in a local music shop when a distraught bride to be came in with tears in her eyes, asking if anyone knew of a band who were free to play at her wedding..... that weekend!!! Lou had just been sorely let down and so Michael said he could play a solo performance for her. He explained that he only covered rock songs like Queen, Bon Jovi, Foo Fighters and the like and Lou was over the moon with that. She said she didn't care what he played, so long as there was live music! I couldn't imagine Lou not having any pop and Motown to dance to though, myself being the kind of girl who loves a good old boogie at weddings, so I offered to sing some for her even though I was utterly terrified at the thought of going on stage.
- The table centrepieces were enormous, fully mature trees -

Mum and Dad had always told me I could sing though, and their words came to me in that moment of really wanting to make it all better for this desperate lady. I didn't really think about how long it was going to take to prepare or if I was good enough, I just wanted to help find a solution like anyone would when they see someone so upset. Lou asked us as we left the shop what should she call our instantly formed band and I suggested the name Cupids Wish. I still don't know how the name came to me but Lou loved it and so there it was.
Fortunately, we happened to be off work that week and so we rehearsed for 5 days non-stop to put together 2 sets. There was very little sleep! We were up all day and night with the help of my brother who recorded drums onto the backing tracks Michael made for me to sing to. It was pretty gruelling but at the same time exhilarating, and hilarious!
My voice kept croaking when we were practising the first dance and so in the end, we turned off the lights and rehearsed in virtual darkness to try not to set each other off laughing! Thankfully after 5 days of non stop practice, we managed to pull ourselves together and I managed to stop croaking which was just as well - because it was time!

"A day without laughter is a day wasted" – Charlie Chaplin.

On the day of the wedding, my heart raced and I thought it was going to leap out of my chest as the nerves set in! Everything about the venue was spectacular. The table centrepieces were enormous, fully mature trees surrounded by bespoke made oak dining tables that had been carved into the actual tree trunks - just for the occasion! There were hundreds of cut glass crystal baubles with candles hanging from the tree branches and a splendid, floor to ceiling crystal fountain – the likes of which I'd never seen anything like before, or ever since.
I remember us both simultaneously gasping out loud in amazement (or more likely, shock!) This couple should have Beyoncé singing for them I remember thinking to myself – what on earth was I doing here!!!! I was feeling really concerned about disappointing everyone, not least my bride who hadn't even heard me sing but Lou appeared beaming from ear to ear looking magnificently beautiful. She made us both feel so wanted and welcome and we quickly realised that this was where we meant to be and that we were doing the right thing.
- To be able to transmit happiness to others in this way made me feel hungry to do it again and again -


Michael was as cool as a cucumber and affectionately held me in his arms before it was time to go on stage, telling me that I could do this, and to think how proud my Dad would be. My Daddy had recently passed away but suddenly, all I could see before me was his kind face beaming reassuringly at me and as if by magic, a very shy me experienced a surge of inner strength and determination I'd never felt before.
So I followed Michael up onto the stage and as butterflies whirled around my entire body and the first lyrics came out of my mouth, the dance floor filled up and to my surprise, I was strangely okay? It felt surreal but at the same time, the most natural thing in the world to be standing next to Michael and singing by his side in front of 300 people. Adrenalin rushed through my veins and we both totally sang our hearts out! Michael wowed everyone with a few jaw dropping guitar solos as he always does and when the sets came to an end, we were asked for an encore - and another - and another.
Being hugged by almost everyone as we came off stage was one of the warmest and fuzziest sensations to ever fill my senses and I became immediately addicted to this heady and rewarding feeling. Michael had forewarned me about this possible addiction but I couldn't have imagined what he meant until I felt it for myself!
To be able to transmit happiness to others in this way made me feel hungry to do it again and again! To our amazement, one of the guests asked us to play at his wedding taking place a few months later and without giving it a second thought, we said yes.

- the lure of fame just wasn't appealing -

Very quickly thanks to the kindness of word of mouth, we were asked to perform at so many weddings and events that we gave up our day jobs to become a two piece wedding and party band, playing the length and breadth of the UK. Our bestie Matt and members of my family joined us for a few years to play with us before venturing into new jobs, marriage, having babies and all that awesome stuff us humans get to do.
Being a family band created a lot of interest in us and we were offered some amazing TV opportunities and also asked to meet personally with Simon Cowell and Sony Music, who were eager to sign our family. But just like our parents before us, we decided it wasn't something we wanted because we value our precious family life and togetherness too much and the lure of 'fame' and all that comes with it, just wasn't appealing.


We did say yes though to going on the One Show celebrating family bands because we sadly lost our wonderful parents prematurely, and so this felt like a lovely way to remember and pay tribute to them.
People often think that just because you're out there singing or playing an instrument in public that your probably hungry for fame, to be adored or to show off but that's not always the case. For my family, it's always been about something much deeper than that. For us, it's about togetherness, connecting with people and nourishing our soul.

"Music speaks what cannot be expressed, soothes the mind and gives it rest, heals the heart and makes it whole, flows from the universe, into the soul"
- Angela Monet

Now it's Michael and me again just like when we started, only this time we have 10 years of amazing memories and experience behind us – plus a load more songs too! We sometimes get asked do we ever get tired of playing weddings and giving up our Saturday nights? The question tickles us because this truly is the best job in the world! And although weddings are often the same in all the traditional ways, every single one has it's own unique vibe, which means each one is a beautiful new experience for us.
I still get butterflies and the tingles we felt the very first time and that's because we have such a powerful desire to help make the magic happen for anyone who believes in us to be there for them.
I've enjoyed putting our story into words and especially the wonderful feelings of nostalgia it's evoked. I really wanted to write this so that anyone who we've played for in the past or who we play for in the future, get to know more about us.


- And so the addiction continues -


We've always wanted our couples to feel like they know us more as friends rather than 'wedding suppliers' because singing at weddings is more than us turning up and belting out songs.... Much more! We're driven by the emotion, the love and the happy energy and there's a connection that happens between our couples and us which is impossible for me to put into words really! But whatever those missing words are, it's the reason we've been doing this beautiful thing for the past ten years...... And so the addiction continues!
I'm feeling all loved up now and pretty emotional too remembering so many gorgeous people we've played for who are lovingly etched into our hearts and memories. So I think it's time to take our darling doggies for a walk to reminisce even more and extend the happiness!
Thank you for reading my very first blog post which will hopefully be one of many seeing as I've enjoyed these lovely feelings of sharing so much.
I wish you all love.
Georgia. x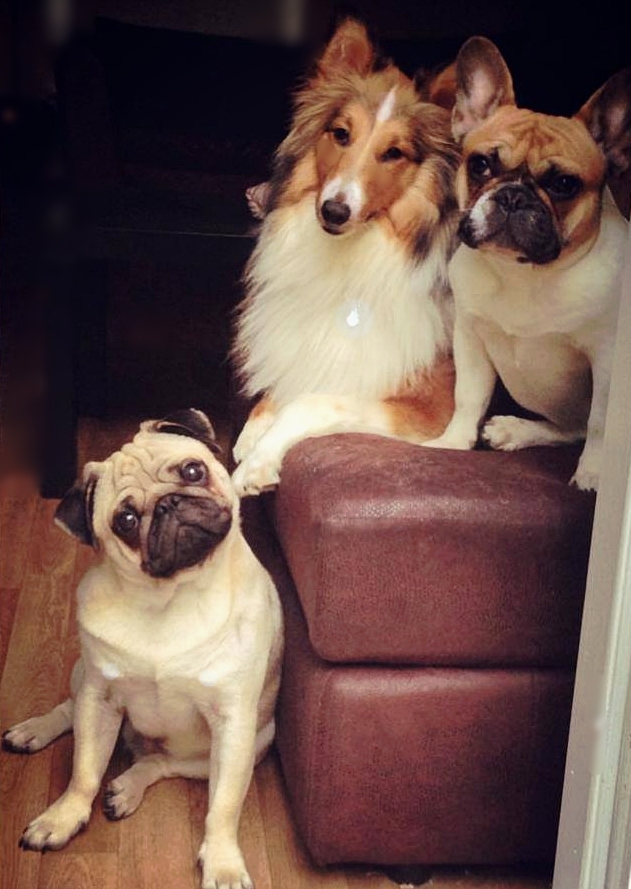 My blog is dedicated to my Mum, Dad and sister Emma's memory. We'll feel joy and bring joy with music from our hearts to everyone we play for, just as they loved to!
Georgia. xXx